Stainless Steel Timing Belts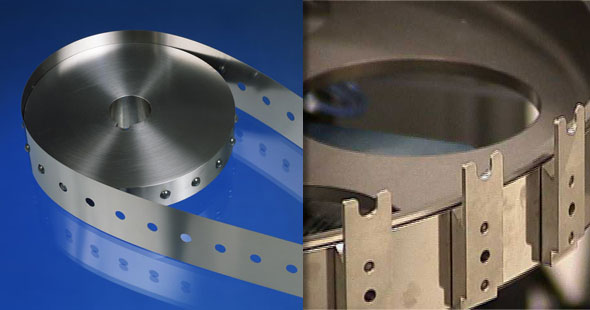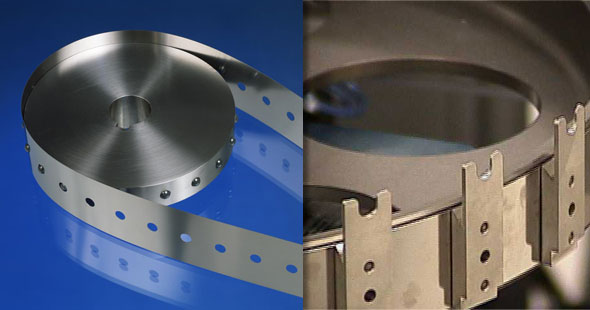 Timing belts and timing drive tapes are designed to function with specialized timing pulleys to guarantee precise, cyclical transport of products. Conveyor belts manufactured for timing applications can be made with perforations to engage timing teeth on the pulley; they can also be made with attachments that engage pockets in the pulley's outer circumference. The precise construction and timing elements in either case are used only for timing and not motion generation. The belt movement is still generated by frictional forces between the belt and pulley surfaces.
Custom Engineered Timing Belts and Pulleys 
The team at Belt Technologies has the knowledge and experience to create custom PureSteel® timing belt solutions for virtually any automation equipment or conveyor automation application. Stainless steel timing belts are highly versatile and can be designed with specialized attachments for timing, positioning and indexing. The unique properties of stainless steel give metal timing belts the same resilient properties as our flat metal conveyor belts, including a high resistance to impact, extreme temperatures, chemical corrosion and vacuum environments.
Timing Belt Applications
Timing belts are effective in a variety of automated applications, including:
Timing
Carriage positioning
Indexing
Achieving accurate and repeatable results
Timing belts and timing pulleys further minimize the effects of belt creep, which makes stainless steel the best option for maintaining system accuracy in applications where precision and repeatability are paramount. To find out more about our precision PureSteel® timing belts, timing drive tapes and pulleys, contact the experts at Belt Technologies today.
Learn more about the advantages of stainless steel timing belts.