3D Printers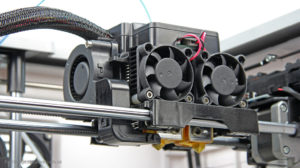 3D printers are a valuable resource for the manufacturing industry, saving time and money in the construction of complex parts. Belt Technologies works with 3D printer OEMs to develop and fabricate components such as stainless steel drive tapes and timing tapes; these parts improve printing quality and accuracy during production.
Stainless Steel Pulleys and Drive Tapes for 3D Printers
3D printers produce objects by layering materials in specific patterns. Unlike conventional printer heads, which move across standard horizontal axes, 3D printer heads move across vertical planes as well. Achieving desirable results requires precise positioning. Stainless steel drive tapes and timing tapes are highly accurate. They eliminate chordal vibration, motion loss, and provide near-zero backlash, ensuring repeatable accuracy and maximum equipment lifespan.
Depending on the application and sintering material, temperature may also be a concern, as printing heads can become very hot. Stainless steel has a high resistance to temperature extremes. It is highly durable and resistant to chemical corrosion and physical impact.
Belt Technologies can manufacture a variety of stainless steel 3D printer components, including:
Drive tapes

and Timing Tapes – Our team can produce drive tapes as large as 35" for industrial-level additive manufacturing equipment and as small as 0.1".

Pulleys

– Pulleys play an essential part in performance and reliability. Pulleys control belt systems and are engineered to provide optimal belt tension and motion control.
Custom Engineering of Stainless Steel 3D Printer Components
Belt Technologies will work with your design and engineering teams to ensure your 3D printer components achieve optimal results and maximize the lifespan of your equipment. Components can be produced in a wide array of stainless steel alloys, which can be selected based on the application's requirements. Our engineers can also customize components for your 3D printer application with other features such as attachments, coatings, and surface treatments, if required.
For more information about our 3D printer drive tape, timing tape, and pulley manufacturing capabilities, contact the experts at Belt Technologies today.
Find out more about stainless steel drive tapes and pulleys for 3D Printers