Conveyor Systems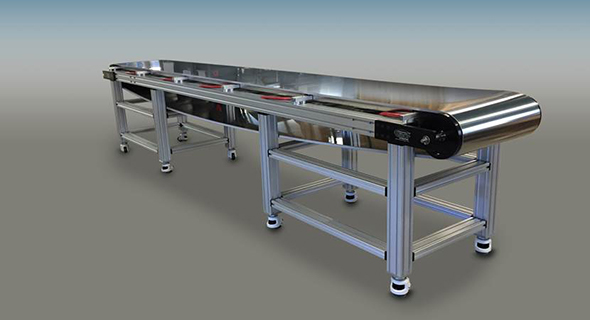 Get the unique benefits of metal belts in a complete engineering-friendly package!
Manufactured with high precision tolerances virtually unattainable with other belt materials.
Essentially unstretchable solid stainless steel or carbon steel belt material.
Extremely high strength-to-weight ratio.
Withstand harsh temperature or chemical environments.
Excellent clean-room capability-great for food, pharmaceutical and packaging applications!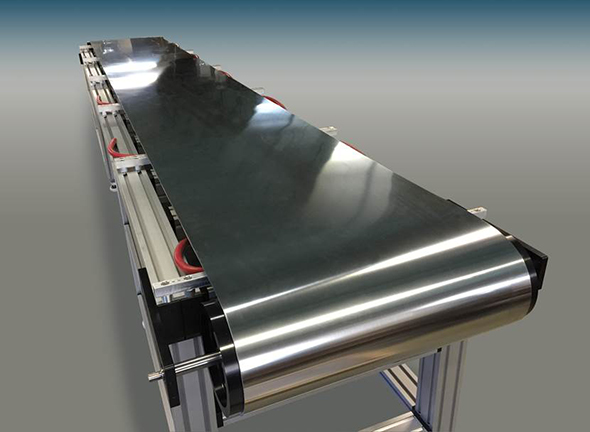 Taking a metal belt design project from concept to completion has never been easier!
Belt Technologies is pleased to offer the benefits of metal belts in an easy-to-use system, complete with motion control, tracking, and tensioning – all from a single source. Each system is built to exacting standards, and delivered ready to use*. Talk to your Belt Technologies Sales Engineer today about a complete metal belt system for your next application.
Machine Frame: Aluminum or Stainless Steel*
Conveyor Belt Length (max): Unlimited
Conveyor Belt Width (min): 0.5 inch (12.7 mm)
(max): 36.0 inch (914.0 mm)
Belt Type: Solid or Perforated Stainless or Carbon Steel (Also available with custom attachments, coatings or tooling nests)
Rail Type: Fixed, Adjustable or combination
Stand Types: Pedestal, H style, fixed adjustable, horizontal, incline with floor attachments or casters
Stand Height: 0-10 ft (3 M)
Motor Mount: Above, Below or Beside Conveyor Frame
Speed: Variable
Electrical Options: 115/230VAC or 90VDC – Single or 3 Phase
Tracking: Optional AutoTrack system continually monitors belt location near idler pulley for precise side-to-side belt positioning
Timed Drives: Timed (Synchronous) belt & pulley features available. Consult your sales engineer.
*Some minor assembly may be required. Consult your Belt Technologies sales engineer for details.