Stainless Steel Casting, Pasting, and Sintering Belts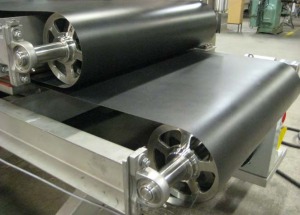 Belt Technologies engineers have the knowledge and skill to produce high-quality stainless steel conveyor belts and conveyor belt systems for automated casting, pasting, and sintering applications. Solid stainless steel conveyor belts last longer and perform better than other belt materials, such as wire mesh or neoprene, which easily succumb to the high temperatures of casting, pasting, and sintering systems. Our solid metal belts are durable with a perfectly smooth surface for optimal product results.
Metal Belts Maximize Product Throughput and Quality
The unique properties of stainless steel make our solid metal belts ideal for casting, pasting, and sintering applications. Metal belts by Belt Technologies are precision welded using our in-house, high-energy beam welding services to achieve strong, smooth surfaces that do not warp or leave unwanted impressions on your products.
Metal belts are clean and highly durable. They do not generate particulates and do not require lubrication, thereby minimizing the risk of product contamination. Due to the high thermal conductivity of stainless steel, solid metal belts are able to distribute heat more evenly than other belt materials. They also will not warp or break when subjected to frequent or extreme changes in temperature.
Key Features:
The resilience of stainless steel enables your system to achieve its maximum lifespan with minimal downtime for maintenance and maximum product throughput.

Thermal conductivity provides even distribution of heat, quick cooling, and efficient transitioning through temperature stages.

Clean and durable operation with no particulates and no lubrication makes for zero risk of product contamination from the belt.

Smooth motion control provides even application of heat as material passes through the casting, sintering, or pasting processes.
Belt Technologies also provides options for surface coatings and treatments that will improve the nonstick properties, heat transfer capabilities or durability of your conveyor belt. Our proprietary GATORCOAT® is a popular choice for heating applications that require even distribution of heat with maximum nonstick surface properties. To find out more about how solid metal belts can help improve your casting, pasting, or sintering system, contact the experts at Belt Technologies today.
What can metal belts do for your automation system?