Stainless Steel Conveyor Belts for Medical and Pharmaceutical Applications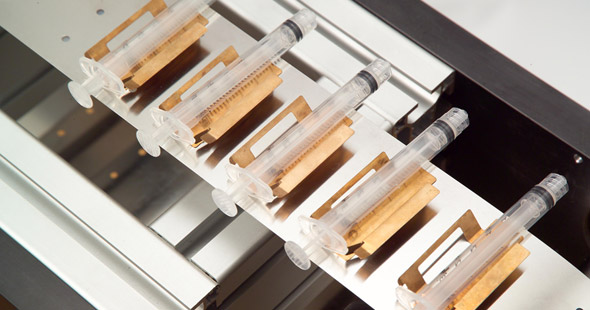 Automated conveyor systems in pharmaceutical and medical applications are heavily regulated for safety purposes. Materials used to process, handle, and transport pharmaceutical products must be flawlessly sanitary, easy to clean, and resistant to corrosion. Equipment that comes into contact with medical products has traditionally been made with austenitic stainless steel 304L or 316L for their availability, relative low cost, cleanliness, and high corrosion resistance, similar to the belts used in the food processing industry.
Solid Stainless Steel Conveyors Are Ideal for Clean Room Environments
The properties of stainless steel make it an ideal material choice for pharmaceutical and medical conveyor systems. Stainless steel has a smooth, impermeable surface that offers no opportunity for the invasion of microbes or bacteria, making it safe and clean for these applications. In fact, studies have shown that bacteria does not attach to the surface of stainless steel nearly as well as it does to other belt materials such as rubber or plastic. This attribute is particularly valuable in clean room environments.
Other beneficial properties of stainless steel for the pharmaceutical and medical industries include: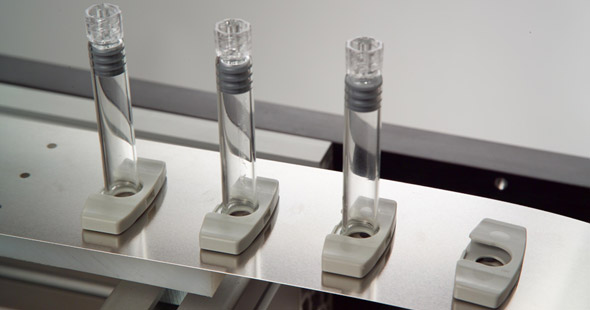 High strength-to-weight ratio

High heat resistance

Stain resistance

No produced particulates

No outgassing

Ready availability

Ease of fabrication
Stainless steel is most valued in the medical industry for its high resistance to corrosion, which allows the belts to be rigorously sanitized by a variety of methods, including high-pressure steam, high-pressure wash, and chemical cleaning. Assuming there is enough oxygen in the environment to maintain the seal of a stainless steel belt, its protective chromium oxide surface layer allows it to resist nearly all forms of corrosion. A solid, stainless steel conveyor belt is the most ideal, long-lasting, and sanitary surface for transporting pharmaceutical products and medical equipment. For more information on conveyor belt systems designed for use in vacuum environments, contact an engineer.
Custom Conveyor Design for Medical and Pharmaceutical Automation Applications
The elements of stainless steel conveyor systems are highly customizable, including their belt sizes, thicknesses, widths, and configurations. A virtually unlimited range of surface treatments are available, such as our specially formulated, FDA-approved GATORCOAT®, which is best used for high-heat applications like sterilization tunnels. Additional treatments such as hard coat anodization can provide increased strength and corrosion resistance when necessary. Other coating options such as silicone or neoprene can be used to create die-cut pockets that can safely house and carry small products.
Each conveyor system Belt Technologies, Inc. produces is designed to fit the exact, unique requirements of a specific application. Belt Technologies engineers have the knowledge and experience to design and fabricate an automated conveyor system for virtually any pharmaceutical or medical application. Attachments and conveyor belt perforations for vacuum systems are easily added as required. Our engineers work with our clients to produce metal conveyors that provide optimal product throughput with minimal downtime for maintenance and cleaning.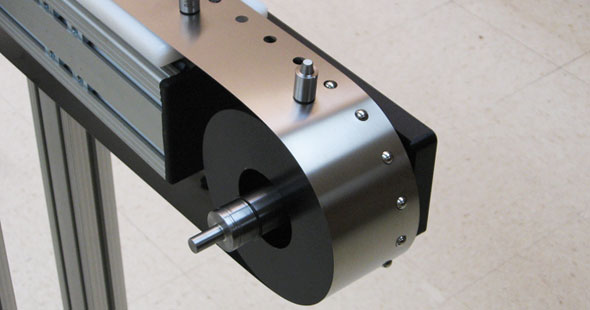 Achieve Ultimate Precision Where It Matters
Solid stainless steel belts are highly accurate and virtually non-stretchable, enabling precise positioning within their systems. The positing accuracy of a stainless steel metal belt is typically within 0.0005" (0.013 mm) due to its belt pitch tolerance. Stainless steel belts have high repeatability, with a single pitch able to return to home position on successive rotations of the belt between 0.002" (0.051 mm) and 0.005" (0.127 mm). Because the metal belts do not stretch, they are able to maintain positioning accuracy and repeatability for the entirety of their expected lifespan.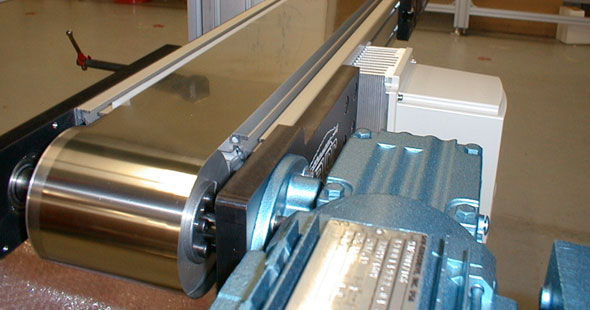 There are numbers advantages of stainless steel conveyor belts for the pharmaceutical and medical industries. The stainless steel family includes more than 300 austenitic alloys, all of which offer high resistance to corrosion, extreme temperatures, and bacterial penetration. Solid stainless steel conveyor belt systems provide optimal product handling with minimal risk of contamination and maximum compliance with existing guidelines and regulations. The physical attributes of stainless steel and its ability to adapt to virtually any system requirement make endless, solid stainless steel conveyor belt systems the optimal choice for pharmaceutical and medical applications.
Are you seeking a clean, chemically inert, customized conveyor system for your automated pharmaceutical or medical equipment processing facility? Contact the experts at Belt Technologies today for comprehensive design consultation and system fabrication services.
Contact Belt Technologies
What can metal belts do for your pharmaceutical processing system?