Metal Conveyor Belts for Solar Panel Stringer Machinery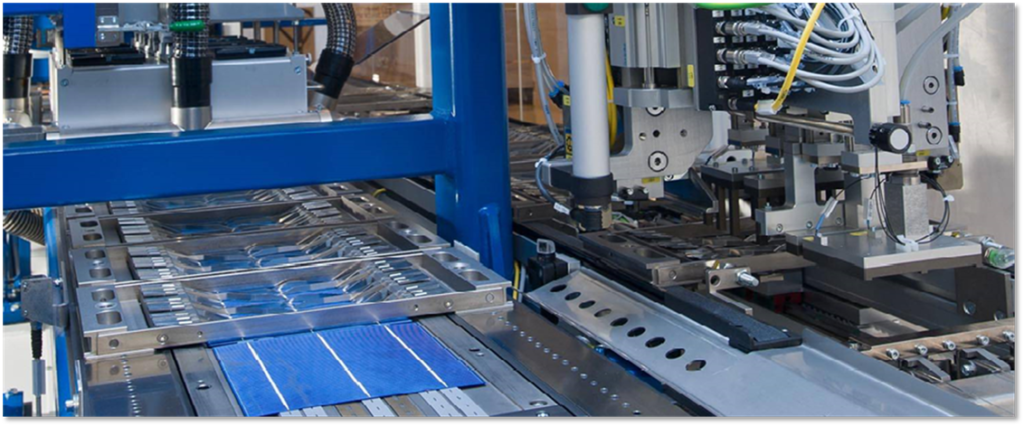 The need for renewable energy and sustainable power has become one of the most compelling issues in the energy industry; solar power manufacturers are racing to revolutionize their technologies. Over the past decade, there has been a terrific upswing in technological innovation and the demand for more efficient and reliable ways to produce photovoltaic products.
These upgrades have introduced a particular set of problems for manufacturers trying to automate the production of solar panels and solar equipment. The method by which solar panels are transported during production must offer reliable positional accuracy, be clean and particulate-free, and function seamlessly at extremely high temperatures. While plastic and fabric belts have continuously failed to meet these demands, stainless steel conveyor belts have become the optimal choice when designing solar panel tabber and stringer equipment.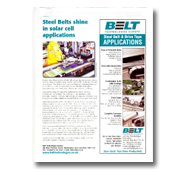 Steel Belts Shine in Solar Cell Applications
We're pleased to offer you the opportunity to download our Solar Advert, Steel Belts Shine in Solar Cell Applications, in PDF format. (Adobe Acrobat Reader is required, high-speed internet connection recommended).
Stainless Steel Is Resistant to Extreme Temperatures
Solar panels are produced by welding individual cells together using blasts of hot air. The welding process exposes the solar cells and the conveyor belts to temperatures of 390°C (734°F). Other conveyor materials will warp or melt at these temperatures, but the high thermal expansion coefficient of stainless steel enables it to maintain consistency, shape, and functionality.
Belt Technologies offers a variety of stainless steel alloys with varying degrees of thermal resistance; this means our engineers can design the perfect stainless steel belt for your application. To endure the high-heat methods of solar panel soldering, Belt engineers typically recommend the 17CH900 low-expansion stainless steel alloy, which can easily withstand extreme temperature shifts. Additional coatings and surface treatments can maximize a conveyor belt's temperature resistance and release capabilities, further guaranteeing that components will not stick to the belts during heating or cooling.
Perforations Allow for More Reliable Transportation via Vacuum Technology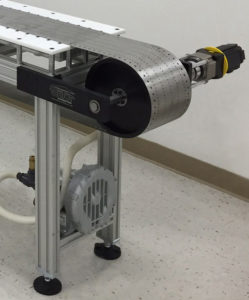 A key feature of an automated solar panel manufacturing system is a specially designed vacuum conveyor that smoothly releases the solar panels to minimize handling at high temperatures. Because stainless steel is so robust, these belts can also be perforated to increase the precision of movement in vacuum systems.
Solar cells can be positioned on perforated metal belts to enable a welding accuracy of 0.1 mm or better in both the lateral and horizontal planes. Belt Technologies, Inc., utilizes a variety of perforation methods, including laser etching, chemical etching, and precise high-impact methods that will not damage the belt or shorten its lifespan. Combined with a low-friction coating such as GATORCOAT®, these vacuum perforations allow for gentle, high-speed transportation and automation of the solar cell welding process.
Clean, Accurate Conveyor Systems Built to Last
Metal belts retain their shape and last longer than plastic or fabric belts, enabling them to maintain maximum accuracy and product quality. Stainless steel conveyor belts offer cost savings to manufacturers by reducing the number of necessary belt changes—less downtime makes for predictable, consistent output. Additionally, metal belts are clean to operate, do not require lubrication, minimize debris buildup, and do not generate particulates that can damage sensitive solar cells.

Vacuum transport with steel belt
Stainless steel metal conveyor belts are superior for their cleanliness, heat resistance, and longevity. Belt Technologies has provided these specific belts to solar panel manufacturers as a way to maximize product throughput without sacrificing quality. Solar panel producers who have upgraded their systems with Belt Technologies have seen production increase by as much as 1,000%. Does your automated solar panel production system have room for improvement? Contact the experts at Belt Technologies, Inc., today.
What can metal belts do for your solar panel production system?