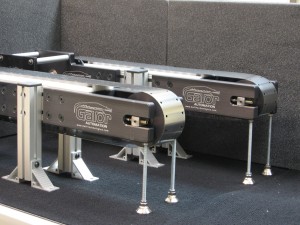 Agawam, MA — July 20, 2010…. Belt Technologies has introduced a new tensioning shaft support for use on belt conveying systems. The GATOR® tensioning shaft support provides a simpler method of tensioning and tracking adjustments than traditional methods, resulting in less down time and higher productivity.
This new tensioning shaft support system incorporates a simple yet effective design that's made to fit standard aluminum profiles and allow on-the-fly tensioning and tracking adjustments. The GATOR system eliminates the stoppages and repeated adjustments that are common with manual block and yoke methods; allowing for quicker, more accurate real-time adjustments that don't compromise productivity.
In addition to decreased set-up time, the GATOR system is designed for ease of use. Pre-load belt tension is achieved thorough simultaneous adjustment of two lateral screws. Individual screw adjustments are then used to increase or decrease edge tension and correct tracking.
For more information on Belt Technologies products, call 413-786-9922.
Belt Technologies designs and manufactures belt conveyors for wide ranging applications in the automation, electronics, packaging, food processing, medical device, tobacco, and aerospace markets.