Because by using sophisticated proprietary State-of-the-Art technology and unique innovating manufacturing processes developed throughout many years of experience all over the world, Belt Technologies, Inc., designs each product to customer's precise specifications with optimal results.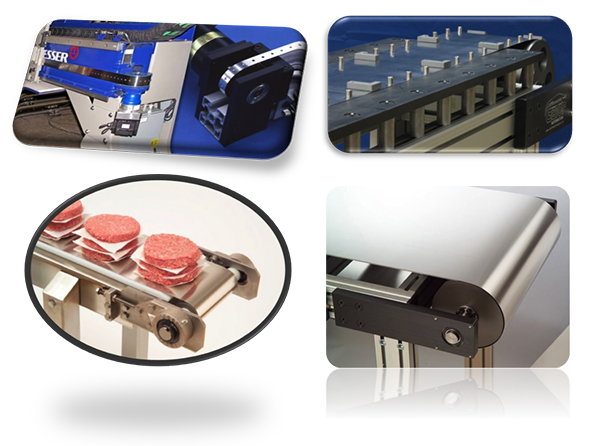 Our Stainless Steel Belts are supplied in a countless range of configurations with or without coatings, custom designed for the following areas (among many others), where metal belts are used in a variety of precise applications:
Our metal belts have a number of desirable properties for industrial uses:
Flexibility: The flexibility of our metal belts derives from the extremely thin materials used, usually (but not limited to) 300 series stainless steel.
High Strength-to-weight ratio: Very thin belts of high tensile strength alloys (up to 280,000 psi) have low mass loading and low inertia.
Dimensional stability: Virtually unstretchable, metal belts exhibit minimal elongation under tension.
Corrosion resistance: Stainless steel alloys are inert, non-absorbent and easily cleaned, suitable for corrosive process environments or sterile conveyance of pharmaceuticals, medical equipment, food and other contamination-sensitive products.
Heat resistance: Metal belts may be used at elevated temperatures such as those found in baking and infrared oven-curing operations.
Electrical and thermal conductivity: Alloys may be selected for applications requiring electrical conductance, heat transfer or magnetic properties.
Coatings: Fluoropolymer coatings can be added for non-stick contact with the belt surface.
In summary: Belt Technologies, Inc., produces solid steel custom belts manufactured to your specifications in our ISO-9001 facility. Elements such as coatings, custom attachments, timing holes, tracking systems and high-temperature alloys can be combined for an ideal engineering solution. Our belts are an excellent choice where extreme temperatures prevail, for vacuum conveying applications, in corrosive environments, and where clean room, asepsis, or food contact surfaces are required.
Some of our customers comments sums it all:
"Vacuum conveying, precise positioning and tooling, all from a single belt. Belt Technologies' specialty belts combine several operations into a high-performance solution."
"Because you can't just pick a belt off the rack. Belt Technologies' metal belts work for me".